INTARSIA PATTERNS by WORTHINGTON HOUSE LLC
We are now PayPal Verified for checks and credit card processing.
( online Intarsia instruction book, complete with graphics )
( shaping an intarsia rose )
Yahoo Group Complete online club with photo albums and message board. Over 1800 members.
Also check out the Yahoo Group for displaced MSN club members. Everyone is welcome.
Owned and operated by Bruce Worthington
I built this page some years ago to help people interested in INTARSIA to get started. Both E-Books and related articles are free and meant to be used as a starting point. Also I will display some of your work in my guest pages. Contact me if your interested.
Welcome to Intarsia Net
This is Teddy. He will be the pattern completed in the first Intarsia E-Book.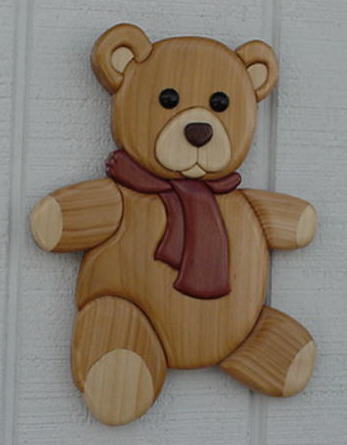 Intarsia Net was made to promote this art form and for Intarsia artisans to find Intarsia related links, and discuss their trade.
I have installed a chat room for use by Intarsia and Scrolling members. This is always open. Chat Room
Host and owner: Bruce Worthington brucew@intarsia.net
You are visitor number:
since May 1999
This site is a member of WebRing.
To browse visit Here.
These sites carry my patterns as well as many more.