Building an Intarsia Eagle
The eagle on display is an example of intarsia (in-TAR-sia) – a mosaic made by fitting different pieces of wood together. This striking art form dates back at least to ancient Egypt. Traditionally, intarsia has belonged only to the rich, as it is too labor-intensive and expensive for ordinary folk. Modern woodworking tools reduce the cost somewhat.
I discovered intarsia some years ago in an article in Wood magazine. Previously, in a lifetime of woodworking as a hobby, I had built all sorts of things, including boats and furniture. Now it is intarsia only, in a spare-bedroom hobby shop – some 250 projects over the last five years.
With 70-some parts sawn from four species of wood, the eagle is typical of modern intarsia. The photos below offer a brief glimpse at the building process. The pattern is by Judy Gayle Roberts, modified to suit my taste.


A full-size copy of the pattern is glued to thin plywood and sawed into a stencil. The many holes in the stencil allow lines to be drawn directly on the intarsia wood.


The eagle has been blocked (roughed in). Woods are walnut, aspen (white), yellowheart, and western red cedar. Each block is selected for its color and grain characteristics.


After preliminary shaping, the blocks are sawed to pieces. Now there are 70-some parts. Each part is shaped on two sanding drums, then polished on a flutterwheel.


Like all intarsia parts, the feet go through several stages of development.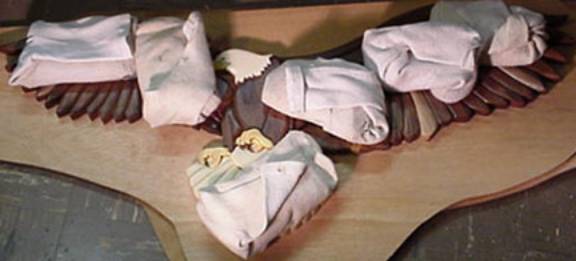 After shaping and polishing, each part is given two coats of clear lacquer, rubbed out with fine steel wool, and glued to a luan backboard. The white objects in the photo are socks, each containing a ziplock bag with five pounds of bird shot.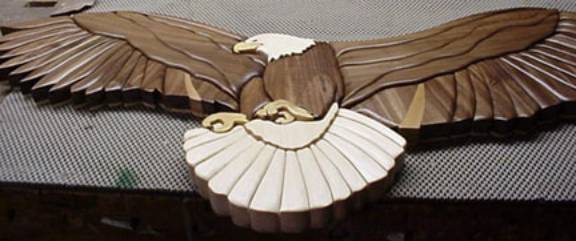 The backboard is trimmed to shape with a pin-piloted router. The project is finished with several additional coats of lacquer, polished between coats with finest steel wool. Though there is no typical time, an experienced builder might build one eagle per day.
For further information:
The eagle pattern can be obtained from Judy Gale Roberts at www.intarsia.com her site offering intarsia books, patterns and tools.
Jim Adams, at derfrelad@worldnet.att.net