Home * Scenery and People * Birds * Animals * Cartoon Animals * Christmas * Fantasy * Misc. * Fretwork Patterns
NEW - My patterns are now available in PDF form. Simply e-mail me your order at brucew@intarsia.net and I will send you an invoice through PayPal. If you have a PayPal account you can pay through it or any credit card and I will send your requested patterns.
Canadian Customers - Many of my patterns are now available from this Canadian supplier.
Workshop Supply Inc. Please visit their site and let them know if you would like to see others.
Animals and Fish:

A142 - Boston Terrier - 11 1/2" x 16" - 63 pieces - $7.50

A141 - Wilderness Deer - 16 1/2" x 21 1/2" - 118 pieces - $8.50

A140 - Wilderness Elk - 16 1/2" x 21 1/2" - 134 pieces - $8.50

A138 - Tiger Family - 15 3/4" x 15 3/4" - 221 pieces - $9.00

A137 - Zebra Family - 11 1/2" x 20 1/2" - 313 pieces - $9.00

A136 - Giraffe Family - 17" x 20" - 132 pieces - $8.00

A134 - Pike - 14" x 14 1/2" - 112 pieces - $8.00

A133 - Tiger - 14 1/2" x 20" - 141 pieces - $8.50

A132 - Jake ( rescue dog ) 12" x 16" - 69 pieces - $7.50

A131 - Red Eyed Tree Frogs - Leaf Frog - 10" x 10 1/2" - 36 pieces - Limb Frog - 10" x 12 1/4" 41 pieces - both frogs $8.50

A130 - Red Fox - 20" x 20" - 55 pieces - $8.00

A129 - Majestic Elephant - 13" x 20" - 32 pieces - $7.50

A127 - Bath Time - 27" x 35" - 210 pieces - $15.00


A124 - Marlin - 15" x 16" - 59 pieces - $8.00

A123 - Moulfon Ram - 12" x 22" - 75 pieces - $8.00

A122 - Angel Fish - 12" x 12" - 23 pieces - $6.50

A121 - Wild Horse - 14" x 14" - 42 pieces - $7.50

A120 - Deer Pair - 15" x 16 1/2" - 160 pieces - $10.50

A119 - Hanging Frog and Koala - 8 1/2" x 11 1/2" - 69 pieces and 7" x 9 1/2" 29 pieces - $8.50

A118- Manatees - 12" x 14 1/2 " 50 pieces - $8.50

A117- Playing Dolphins - 15" x 19" 111 pieces - $8.50

A115- Jack Russell Terrier and Schnauzer - Terrier 8" x 9 1/2" 31 pieces, Schnauzer 10" x 10" 30 pieces both patterns for $7.50

12" x 19" 37 pieces - $7.50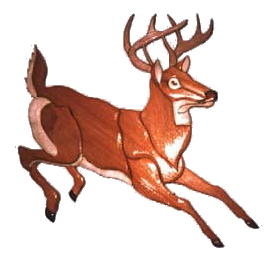 A112- Running Buck - 17" x 17" 32 pieces - $7.50
A111- Running Doe - 15" x 17" 25 pieces - $7.50
13" x 16" - $7.50 both 27 pieces
two sizes - small 8 1/4" x 10 1/2"- $6.50
A108- Moose Head - 12 1/2" x 13" 29 pieces - $7.50
A107- Mountain Lion - 10 1/4" x 20" 42 pieces - $7.50
A106- Rabbit - 5 1/4" x 10 1/2" 16 pieces and Small bunnies - 6" x 5" and 7 1/2" x 5" 5 and 6 pieces $6.50 for both
A105- Elephant - 10" x 14 1/2" 34 pieces $6.50
A104- Dolphin - 8" x 13" 7 pieces and Gold Fish - 6 1/4" x 8 1/2" 11 pieces - $6.50
A103- Deer Head - 13" x 20" 28 pieces - 7.50
A102- Fawn - 12" x 20" 44 pieces - $7.50
A101- Large Lion Head - 23" x 29" 62 pieces - $8.50